CAREER OPPORTUNITIES WITH RADLINK
RadLink is Singapore's leading private diagnostic and molecular imaging service provider, comprising four Diagnostic Imaging centers, a PET scan centre and a Cyclotron facility.
If you are keen to join the RadLink family, please send in a detailed resume stating your qualifications, current and expected salary to:
Human Resource Department
290 Orchard Road, #08-08 Paragon Medical,
Singapore 238859
Fax: +65 6836 8484
Email: career.hr@radlink.com.sg
Thank you and we look forward to receiving your application!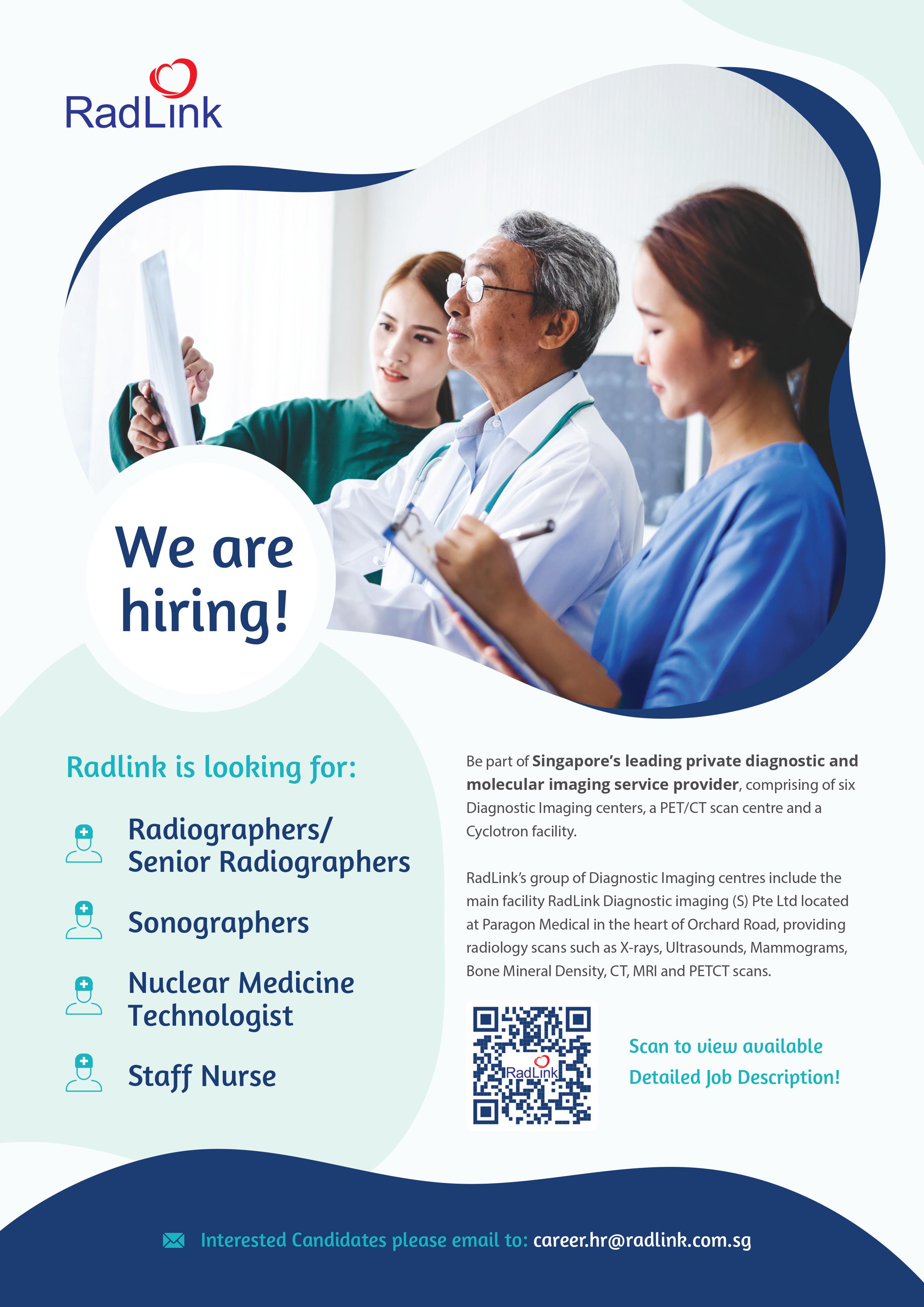 Nuclear Medicine Technologist
Main Responsibilities
Perform different Positron Emission Tomography imaging procedures as per request.
Perform Hot Lab duties including preparation of radiopharmaceuticals necessary for imaging procedures
Perform history taking , explain procedure ,consent taking and assists patients for PETCT procedures.
Ensure that all examinations are performed on the correct patient with regards to the identification and due observance of the relevant policy on irradiation of women of child bearing and procedural consent.
Ensure that patient's film is of optimal quality, correctly labelled and completeness of the examination requested before sending it in for reporting.
Handle and administer radiopharmaceuticals to patients.
Process and print acquired PET images for diagnostic interpretations.
Archive patient's data and images for record-keeping purposes.
Order, receive and record daily and monthly orders of radiopharmaceuticals.
Calibrate equipment such as PET CT scanners, Dose Calibrators and other equipment.
Perform area monitoring and swipe tests.
Perform preparation, Handling, storing and Handling of Radioactive materials according to the SOP.
Maintain proper documentation as required
Ensure radiation and other safety procedures and precautions are complied
Be clinically competent in the range of imaging services offered by the Centre or as assigned by the Chief Nuclear Medicine Technologist or the Clinical Director.
Requirements:
• Degree or Diploma in Radiography or Relevant Medical Imaging Science
Radiographers/ Senior Radiographers
Main Responsibilities
To perform diagnostic imaging procedures on patients as requested by referring clinicians and to assist the clinical aspect of the Centre's business.
Be clinically competent in the range of diagnostic imaging services he/she is trained in and offered by the Centre.
Perform all diagnostic procedures in accordance with clinically accepted standards described in the SOP and relevant work instructions.
To perform imaging procedures

Accurately, as per clinical request and to patients' clinical needs.
Expeditiously, with attention to patient comfort and Radiation Safety.
Of Diagnostic relevance for the Radiologist to report.

Registered imaging requests with the accompanying folder and payment advice form will be place within the respective modality assigned wall slots, from which Radiographers will pick for imaging.
Select patient to be imaged from the modality worklist on the imaging equipment.
Ensure that all imaging procedures are performed on the correct patient with regard to the identification and due observance of the relevant policy on irradiation of women of childbearing age and procedural consent. Ensure imaging is done on the correct patient, with correct imaging procedure and technique used. Acquire images with the highest possible image quality with the available imaging equipment used. Acquired images are to be sent to PACs for archive.
Radiographers are to check and ensure that patients are deemed suitable for the procedure, paying attention to possibility of patient being pregnant when scheduled for X-Ray procedures or the risk of drug allergy.
Ensure printed films are of optimal quality, in terms of zoom factor, window/width and level. All films are to be correctly labelled and in accordance to the imaging procedure requested, before sending to the Radiologist for reporting or given to patient as wet-film.
Requirements:
•Degree or Diploma in Radiography or Relevant Medical Imaging Science
Primary Responsibilities
Prepare exam room and ultrasound equipment to conduct sonography examinations in accordance with infections disease, sterilization, and patient safety protocols, policies, and procedures.
Ensure safety of the patient during the sonographic examination.
Review patient medical history and supporting clinical information.
Evaluate any contraindications, insufficient patient preparation, and the patient's inability or unwillingness to tolerate the examination and associated procedures.
Communicate with the patient in a manner appropriate to the patient's ability to understand.
Use proper patient positioning tools, devices, equipment adjustment, and ergonomically correct scanning techniques to ensure patient comfort and safety, and to prevent compromised data acquisition and musculoskeletal injury to the sonographer.
Conduct patient clinical assessment and perform the diagnostic medical sonography examination ordered by the supervising physician in accordance with professional and facility protocols.
Apply independent judgment during the sonography examination to ensure that appropriate anatomical, pathological, and clinical conditions are accurately captured in the examination images.
Review examination images, synthesize examination results, and prepare the preliminary findings.
Adhere to accepted professional and ethical standards.
Provide patient services consistent with the Scope of Practice and Clinical Standards for the Diagnostic Sonographer.
Provide preliminary report of sonography examinations for use by the interpreting physician.
Assist with the daily operation of the sonography facility.
Requirements:
•Degree or Diploma in Radiography or Relevant Medical Imaging Science
Primary Responsibilities
Manage and control drug inventory
Collect basic Biodata (Height and Weight)
Able to set IV cannula
Prepare patients for various diagnostic procedures, Signing of consent form and pre-scan counselling
Give oral/intravenous contrast where necessary
Able to provide simple health information to patients
Daily checking of the E trolley with attention to expiry dates and condition of drugs
Prepare and administer oral and IV contrast
Manage inventory of equipment, surgical store, linen, and stationery
Understand all aspects of Diagnostic Imaging Modalities provided in the department & assist where applicable
Maintain the cleanliness and aesthetic appearance of the uptake/patient preparation room(s) and perform daily cleaning of the exposed surfaces of the equipment (especially areas in contact with the patient)
Be familiar with the guidelines set out in the Centre's Standard Operating Policies and Standard Operating Procedures and comply with them.
Understand the relevant service culture of the centre and values apply to staff.
Protect the confidentiality of all company proprietary information and patient records as per relevant confidentiality policy
Any other assignments as assigned by the supervisor within the expertise and knowledge level of the staff
Requirements:
• Degree or Diploma in Nursing from a recognised institution
• National ITE Certificate in Nursing
• Registered with the Singapore Nursing Board
• Good communication and interpersonal skills
• Prior experience working in hospital / medical setting would be an advantage
• Fresh graduates are welcome to apply
Job Scope
The radiographer will be responsible for performing one or more of the following imaging procedures, and the duties assigned will depend on his/her professional training:
• Bone Mineral Densitometry
• Computer Tomography
• Fluoroscopy
• Magnetic Resonance Imaging
• Mammography
• X-Ray
The candidate must also possess knowledge and skill in the use of ionising and non-ionising radiation apparatus.
Requirements:
• Degree or Diploma in Radiography or Medical Imaging Science
Staff Nurse / Enrolled Nurse
Job Scope
Plan and deliver total nursing care, and to ensure a conducive and safe environment for patients.
Guide the patient in pre-examination preparation.
Support radiologists/radiographers in all diagnostic examinations in adherence to standards described in the SOP and relevant work instructions.
Requirements:
Degree or Diploma in Nursing from a recognised institution
National ITE Certificate in Nursing
Registered with the Singapore Nursing Board
Good communication and interpersonal skills
Prior experience working in hospital / medical setting would be an advantage
Fresh graduates are welcome to apply
Job Scope
Registration of patients
Provide a service experience for the customer
Maintain patient records
Attend to patient's needs and enquiries
Schedule appointments
Requirements:
Good communication and interpersonal skills
Prior working experience in a healthcare facility as a receptionist or public relations executive would be an advantage
Fresh graduates are welcome to apply
Job Scope
Gather data and conduct analysis on operational statistics
Provide administrative assistance needed to support the daily operations of the various clinics
Requirements:
Good communication and interpersonal skills
Able to commit for at least 10 weeks