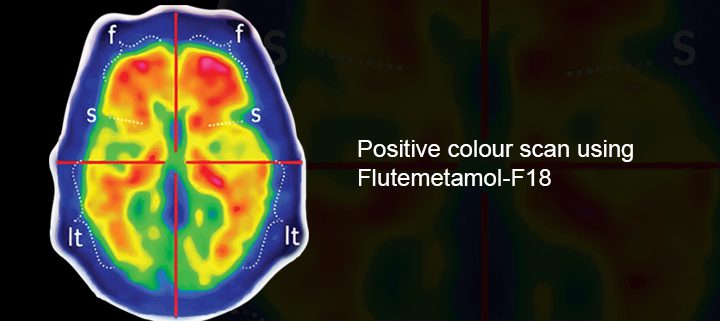 Flutemetamol F18 Injection – For early onset of Alzheimer PET scan
The First-and-Only Amyloid Imaging Agent with FDA Approval for Color Image Interpretation
Flutemetamol F18 Injection color images provided accurate amyloid detection
In Study 1:
Hign median sentivity and specificity in autopsy standard-of-truth assesment among five independent, blinded image readers.
In Study 2:
Flutemetamol F18 Injection color image reads demonstrated high inter-reader agreement for visual image interpretation (kappa score 0.83, 95% CI [0.79-086]).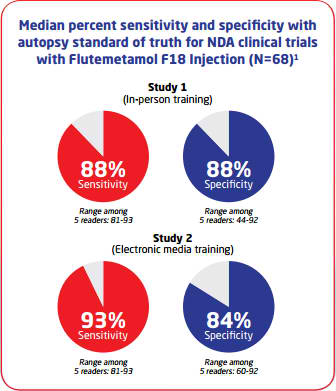 An intra-reader reproducibility analysis involving two readings for each of 29 duplicate patient images showed: One of the five readers ahd complete agreement for all 29 images, two readers had discordant reads for a single image, and two readers had discordant reads for two images.
Intra-reader reproducibility for a subgroup of eight images from aMCI patients showed: All five readers had complete agreement for all duplicate images.
*AMCI – Amnestic Mild Cognitive Impairment
DISCOVER AMYLOID IMAGING IN COLOR
A negative Flutemetamol F18 Injection scan indicates sparse to no neuritic plaques and is inconsistent with a neuropathological diagnosis of Alzheimer's disease at the point of image acquisition
A positive Flutemetamol F18 Injection scan indicates moderate to frequent amyloid neuritic plaques
Flutemetamol F18 Injection is an adjunct to other diagnostic evaluates

APPROPRIATE SITUATIONS FOR AMYLOID IMAGING
With persistent or progressive unexplained MCI
Who satisty core clinical criteria for possible Alzheimer's disease because pf unclear clinical presentation, either a typical clinical course or an etiologically mixed presentation
With progressive dementia and a typically early age of onset (usually defined as < 65)

SAFETY OF FLUTEMETAMOL F18 INJECTION
In clinical trials of 761 patients dosed, one experienced a serious hypersensitivity reaction.
This reaction was accompanied by flushing, dyspnea, and chest pressure
The reaction occured within minutes of administration of Flutemetamol F18 Injection, and the patient recovered with treatment
The most commonly reported adverse reactions occured at a rate of <2% and were of mild to moderate intensity
The recommended dose is 185 MBq (5 mCi) injected intravenously. The adult effective dose is 5.92 mSv
https://radlink.com.sg/portal/wp-content/uploads/2017/08/Whats-New-Banner02.jpg
391
720
Radlink
https://radlink.com.sg/portal/wp-content/uploads/2017/08/logo-highres-2.png
Radlink
2017-03-06 03:25:27
2017-08-16 13:13:04
Flutemetamol F18 Injection – For early onset of Alzheimer PET scan